The New 9 Stages QM891 USFilters ( ORP, Minerals & Alkaline PH )
The perfect choice around the world ( ORP, Minerals & Alkaline PH)
For those who appreciate quality, Reliability and Performance.
Stage 1:
Sediment Filter / 5Micron PP sediment sealed type using food grade Fiber, can effectively filter the water coarse impurities (sediment, rust, sand, scale, hair, micro-organisms, dust)
Stage 2&3:
CTO Carbon Block / 5 Micron carbon block sealed type in accordance with acidic activated carbon (raw material coconut shell) of US FDA standard specification.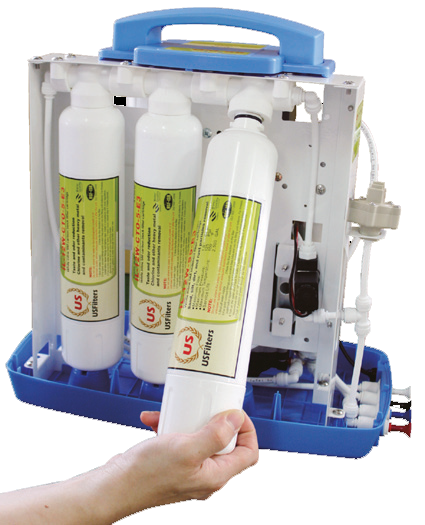 Activated carbon with porous substance has the strongest adsorption function. With highest porosity degree. Advanced carbon's specific surface can express adsorption capacity, mechanical strength, thermal stability and chemical stability function. It can remove odor, VOC, color, taste and other fluid pollutions.
Stage 4:
RO Membrane / MADE IN USA DOW FILMTEC GENUINE, 50GPD, imported by NSF58 certification, 0.0001Micron, RO principle to filter the water, toxic substances, such as heavy metals arsenic, cobalt, cadmium mercury, and other substances, bacteria, viruses.
Stage 5:
Post Carbon / In Line filter, 100% new Coconut shell carbon. In accordance with activated carbon of US FDA standard specification. Contains antibacterial carbon. Uses absorbed pores principle, produce OXYGENIC ION to remove bacterial and inhibit bacterial growth form water. It removes odor, bad taste, bleaching agent, chlorine, pesticide, carcinogen and chloroform, and absorb odor, organic elements carcinogen such as chlorine, pesticide, poison and other chemicals.
Stage 6 To 9:
4 IN 1 Stages, ORP & Alkaline with Minerals / 4 in 1 filters including mineralized stone, honeycomb ceramic, coralline stone and Bio ceramic, Activates water molecules improved oxygen level, reduce acidity in our body, and control body's PH above 7.
500GPD Commercial
RO Water System
5 Stage Traditional
RO Water Filter